A very good book for beginners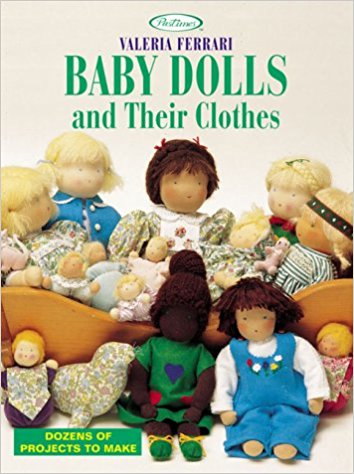 This Waldorf doll making book was published in 1996, and as you would expect, it looks dated. However, it has a good photographed step-by-step tutorial for creating the traditional Waldorf doll head and body, and basic doll clothes. There's a chapter on 'Easy to Make Dolls,' in which you can find instructions for making:
Doll with permanent clothes, where the body is made with cotton fabric, instead of knit fabric, and therefore the clothes cannot be removed from the doll.
Yarn ball doll [a doll made from yarn and covered in fabric]
Knitted doll
Doll in a bag
Dolls in a rice stuffed bag
An added bonus to this book is the pattern and instructions for creating a Wooden Cradle for dolls .
Despite the dated visuals, it is a very good book for beginners, perhaps even the best book for a beginner. It can give you a good idea on the process of making Waldorf dolls, and it is a good source for a basic doll wardrobe and quite a few extra patterns, like A felt coat, various dresses, "The Little Prince," doll costume.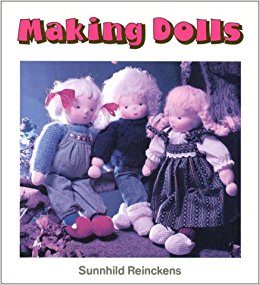 This little book was first published in English in 1989. It has a lot of photographs, and covers a wide range of Waldorf doll types, such as a cuddly doll, which is more known as a 'bunting doll,' a Baby doll, a knitted doll, Tiny Baby dolls, Finger Puppets,Stick puppets, The Gnome, The Iconic Grandparents dolls, and the Hobby Horse. There is a chapter about making the doll's head, a chapter about the different hair styles and a chapter about painting the face.
However, the book is quite dated and the illustrations are a bit difficult to follow.
A Beautiful and Inspiring Waldorf Doll Making Book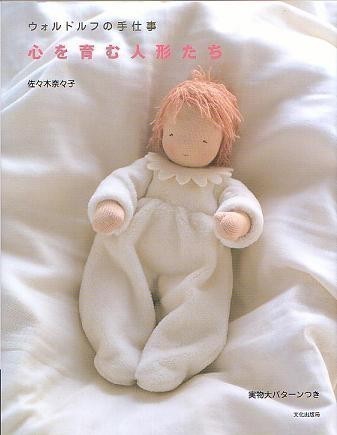 22 Projects of Making Waldorf Dolls with Patterns
This Waldorf Dolls making book, is a Japanese book, but although it is written in Japanese, there are a lot of photographs and diagrams that are not very complicated to follow.  22 Waldorf Dolls  and clothes, with Full Scale Patterns.
Traditional Waldorf dolls. Puppets, Gauze Dolls, Fairies, Felt Dolls, Star dolls, gnomes, Baby dolls, and other Waldorf Dolls, all done with that irresistible Japanese chic. It's a lovely book and I highly recommend it. Unfortunately, it is out of print, but you can find it in secondhand shops, and through Amazon.