Doll Skin Fabric

How to choose your Doll Skin
In the previous post in the series, we discussed the Waldorf doll's Stuffing, and once we chose our stuffing, we are ready to discuss our doll's skin fabric.
What does 'doll skin,' mean?
A doll's skin is the fabric that covers the doll, imitating skin. And since doll makers are creative people, Cloth dolls can be made from a variety of fabrics, such as cotton, felt, silk, wool, etc. Indeed, different doll makers use different doll skin fabrics, but traditionally, a Waldorf doll is made from knit fabric, also know as Tricot, or Cotton Interlock doll jersey, Round knitted into a tube. It is convenient because it stretches over the doll's head and body and can maintain their shape and keep them uniform.
To achieve a neatly stuffed doll you should:
Stuff your doll well (I cannot stress that enough!)
Use good stuffing materials
Use quality doll skin fabric
Stuffing a doll may seem like an easy task, but I can assure you it is one of the most difficult, time consuming stages in doll making, not easily achieved and may take a long while to muster, but we will address it in another post.
Quality doll skin fabric means it will stretch enough, but not too much, because if the fabric is too stretchy, it will allow you to stuff more filling into the doll, and that will ultimately change the look of your doll. On the other hand, when the fabric doesn't stretch enough, you will end up with leaner dolls, which is perfect, if that is the look you are after, but not so perfect if that is not what you were trying to create.
Another point is that good quality fabric needs to be sturdy, yet soft and lovely to touch, and it should be able to keep its fresh look without pilling, stretching, or losing its shape. Again, it is a matter of preference. Some makers love their fabric to stretch easily, some prefer a less stretchy fabric. There is no rule of thumb. If you stuff your doll neatly, it will not change its shape even when using a more elastic fabric, provided it is, as mentioned, a good quality fabric.
Luckily, some manufacturers provide exactly that : a good quality doll skin fabric.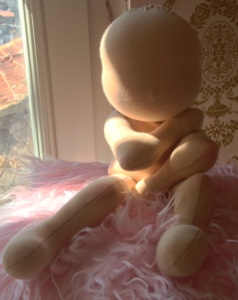 De Witte Engel from The Netherlands, manufactures Cotton Jersey specifically for Waldorf doll Making. Their doll making jersey is a sturdy, round-knitted jersey, which means it has the same 'knit' pattern on both sides of the fabric. (No 'wrong' side.) De Witte Engel offer a light weight fabric for the doll's head, and a medium weight fabric for the doll's body. The fabric is available in ten natural skin shades. The yarns used for knitting this doll jersey carry the Öko-Tex label. This means that it is safe to use in children's toys.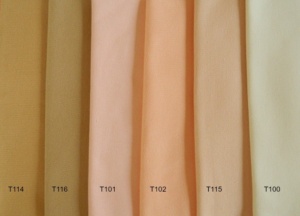 Laib Yala is a Swiss company that makes a heavy weight jersey. It has a right side, and a wrong side. They offer a lighter fabric for the head, and a heavier fabric for the body, but although the fabrics are supposed to coordinate, the colors are slightly different, and when I used it, I used the sturdier fabric for the entire doll, including the head, to avoid that issue. This fabric is considerably less stretchy than the DWE fabric, and is less likely to pill, which is a very important factor in making a doll  for children.
Laib Yala offer 11 shades, including white and cream: pale pink, light peach, apricot, tan, medium brown, chocolate and dark brown.  Personally, I find the Laib Yala color scheme more appealing than the DWE color scheme.
Natalie, from BearDanceCrafts and Woolhalla, has written a great comparative post, investigating the differences between DWE and Laib Yala fabrics. She made two similar dolls using these fabrics, so I do recommend you read it and see the photos before you choose your fabric.
I prefer the DWE for my dolls, despite the pilling tendency, because the Laib Yala fabric has a very distinct look- the rib is much more visible. I would have liked the DWE fabric to be a bit less stretchy though.
One other point to consider is that the DWE fabric is less forgiving when stuffing your doll. If your stuffing method is not very good, it will show. Finding a good stuffing technique is vital, and there are a lot of tutorials available on the internet, showing a variety of method. I promise to jot down a list of the prominent ones in one of the next chapters.
These are the two main brands, but there are other doll skin fabrics.
"A Child's Dream" offers a USA made cotton knit fabric in 5 colors.
"Weir Dolls"  offers organic 100% cotton interlock knit fabric for doll skin, made in the USA, in 3 or four shades.
Debbie, from "Little Oke dolls" offers fabric from Westfalenstoffe.
All these shops offer the De Witte Engel and the Laib Yala fabrics as well.
Other shops that carry a wide array of doll making supplies, including skin fabric:
The Olive Sparrow, based in Toronto, Canada
And many, many more.
If you are just starting out, I suggest you buy a variety of fabric and experiment with it. Just buy a small quantity of each, don't invest in buying bulk quantities, until you know what works best for you. You can also purchase swatch cards of each of these manufacturers, so that you get the  full picture. Swatch cards do not cost much, and are a good investment, as you can use them for a very long time.
Most importantly: Experimenting is the fun part of doll making. Experiment with your patterns and experiment with your supplies. Don't be afraid to try new ideas and quirky materials. Be Creative!
Do what feels right to you and please, more than anything, remember to enjoy what you do.
When I made my first doll, I used a pair of thick glittery stockings, because that was what I had at home.. we've definitely come a long way away since then.
Do you have a favorite fabric you use? Funny stories about doll making?   I'd love to hear your thoughts!
Until we meet again,
xox
Einav